Hotels to remember: Ascoli Piceno
Ascoli Piceno: introduction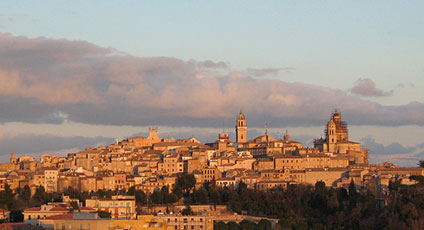 Ascoli Piceno is situated at the confluence of the Tronto and Castellano Rivers. The Piceni founded the city here, in this strategic position high on a rocky plane. Visitors will find many traces of Ascoli Piceno's past, from the times of the Roman Empire to the Medieval and Renaissance periods.
Not surprisingly, there are many places to visit: the Cathedral of St. Emidio, the Octagonal Baptistery, Palazzo Comunale, Palazzo Vescovile, Palazzo Malaspina, the Romanesque Church of St. Gregorio, Palazzo dei Capitani del Popolo, the Gothic Church of St. Francesco, the Loggia dei Mercanti, the Romanesque Church of St Vincenzo e St. Anastasio, the Gothic Church Chiesa of St. Pietro Martire, the Ercolani Tower, Palazzotto Longobardo, the State Archeological Museum, the Diocesan Museum, the Gallery of Contemporary Art.
The most important events held in Ascoli Piceno are the Knights' tournament della Quintana, and the Sagra della Polenta.
Gastronomic specialties include stuffed olives, festino Christmas cake, Caciuni, and wines such as the Piceno Red and the white Falerio dei Colli Ascolani.
Ascoli Piceno: suggestions from the hotels
Maria Elena Cicchi
(Proprietaria)
Farmhouse Holidays
Just a relaxing vacation or an action-packed holiday? Choose to have a fascinating insight to life in Marche region! (Villa Cicchi) →
Madeline Jones
(Owner)
Small Boutique Hotels

Montelparo, in the foothills of the Sibillini Mountains, is not only on the doorstep to three national parks, but is also the perfect gateway to the many nearby historic towns including Ascoli Piceno and Fermo, blue flag beaches and more. (Hotel Leone) →
Ascoli Piceno: places to see in the area