Most clicked hotels
(last 30 days)
ItalyTraveller - 100% Pure Inspiration
Last 30 days
Venice at a glance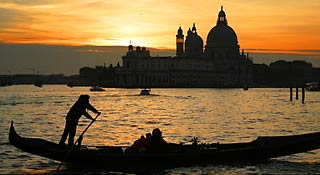 Exuberant, elegant and stylish, the city of Marco Polo, of the carnival, of 16th century masterpieces and stunning contemporary artworks which line the banks of its canals.
St Mark's Square, the Grand Canal, the Bridge of Sighs, the art museums, the carnival, the gondolas, the lace of Burano, and the glass of Murano, all contribute to the charm of the ancient capital of the "Serenissima".

A powerful economic force for over eleven hundred years, Venice formed an important bridge between the east and west, where both goods and cultural traditions were exchanged, as can be witnessed in the arabesque motifs in the churches, or the Byzantine mosaics which adorn public, private and ecclesiastical buildings. An ancient city which enthusiastically embraces the modern world, Venice is home to both buildings filled with 16th century masterpieces and to the biennale, where artworks by the world's most innovative living artists are exhibited.
Venice: gourmet addresses
More suggestions and useful addresses