ItalyTraveller - 100% Pure Inspiration
Last 30 days
Lazio: suggestions from the insiders
Some of Italy's most vibrant art is found just walking around the city...if you know where to look! (Street Art in Italy) →
Roberto Del Duce
(Direttore e Chef)
4 Star Hotels

Because of the sea ... a stone's throw from Rome. Because the area is rich with history, culture, art. Because the products of the sea and the earth are children of the tradition, genuine and authentic, delicious. (Hotel Alle Tamerici) →
Pasquale Valentino
(Owner)
B&B and Homes

To discover all the charm of an area full of history, culture, archeology and nature. A wonderful sea from Sperlonga to Gaeta, for years Blue Flag beach. A Kasa Mia the high quality of hospitality is the rule! (Akasamia) →
Paolo Fortini
(Direttore)
4 Star Hotels

Visit the Castelli Romani area around Rome, pleasant places rich of History. Discover the old noble villas, the ruins of Tusculum, the lakes of Albano and Nemi. Enjoy the local food offer. Experience the hospitality of our "Hotel****" (Locanda dello Spuntino) →
Lazio at a glance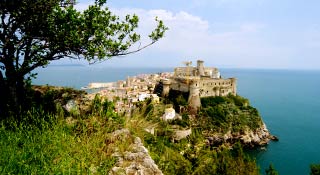 Over two thousand years of history, from the Latini to the Etruscans, from the Sabini to the Romans. A land of sea and mountains, castles and lakes, of ancient towns and the Eternal City.
Lazio is a region home not only to Rome, Italy's majestic Capital city, but also to a coast lined with fabulous bathing resorts and a countryside scattered with enchanting little towns and villages.
 Inland, surrounded by the spectacular scenery of the Castelli Romani and the Ciociaria, it is easy to find towns where centuries-old popular traditions are still passionately observed, towns such as Viterbo, Fiuggi and Tivoli. Then there are the region's woods, lakes, thermal waters, Mount Terminillo and the Etruscan cities of Tarquinia and Cerveteri. In the summer, Lazio's seaside resorts, draw holiday makers from near and far, all eager to bathe in the sunshine and take a dip in the crystal clear sea.

More suggestions and useful addresses