Most clicked hotels
(last 30 days)
ItalyTraveller - 100% Pure Inspiration
Last 30 days
Friuli at a glance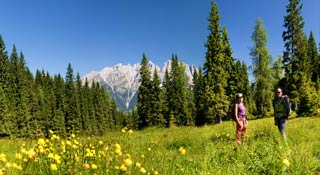 Powerful and silent likes its mountains. Intellectual and reserved like its middle European cities. Pure and wild like its landscapes. Proud like those who, throughout history, have lived in these border lands.
Fruili is a region of Italy where to find snow even during the summer months, but also remote alpine chalets, Roman archaeological sites, long beaches, rocky coastlines, and picturesque fishing villages.

A geographically, historically and politically complex border region, over the centuries, Friuli Venezia Giulia has been invaded from every direction and by almost every bellicose population imaginable. The result are 'Friulani' with a multinational identity and towns with a plurality of architectural styles. The elegant Hapsburg city of Trieste, the regional capital, is the ideal place from where to head in to the Carso, a territory punctuated with karst caves, the largest of which is the 107m deep Grotta Gigante.
Friuli: gourmet addresses
More suggestions and useful addresses