Coffee with Svevo and Joyce
A journey discovering the legendary literary cafes of Trieste.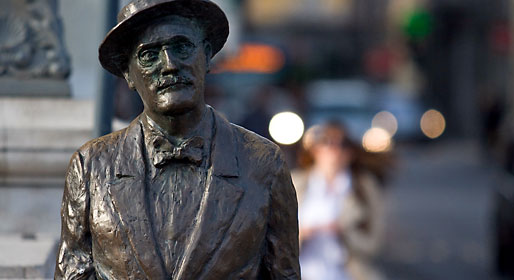 Between the late 19th and early 20th centuries, the vibrant and decidedly cosmopolitan Trieste provided the ideal environment in which artists and writers of the caliber of James Joyce and Italo Svevo could meet.
Italy's caffeine capital
It was in the city's coffee houses that these literary meetings took place, coffee houses in which, as you enter them today, time seems to have been suspended for over a century.
Coffee drinking is an unforsakable ritual for the citizens of Trieste, who have their own special vocabulary to describe the various ways of taking it.
"Nero" means an espresso, "capo" when a dash of milk is added, and '"in b'", when the coffee is served in a glass rather than the usual china cup

The fine art of drinking coffee
A tour of Trieste's literary cafes might easily start in Piazza dell'Unità d'Italia, the square where, historically, the cities elegant moneyed classes used to meet.
In this magnificent piazza, on the ground floor of the Palazzo Stratti, we find the Caffè degli Specchi, since 1839 a veritable institution, around the tables of which any number of artists, writers, politicians and business men have sat, elbow to elbow, for a coffee.
A leisurely in b taken at one of the Café's outside tables, is worth the additional expense, so as to experience the beautiful scenery of the sea front piazza in the company of Trieste's favorite drink and a delicious pastry.
Giuseppe Verdi Opera House and Caffè Tommaseo
Walking along the seafront promenade, we find ourselves just steps away from the Teatro Lirico Giuseppe Verdi, named after the famous Italian composer who particularly appreciated the Opera House's excellent acoustics.
For those wishing to partake in an aperitif before the show, the nearby Caffè Tommaseo, is the perfect place. This historic coffee house, opened in 1830, was a favorite haunt of those writers and artists who animated Central European Trieste.
With its 1940's style salons, embellished with classic furnishings and Thonet's legendary Vienna bentwood chairs, Caffè Tommaseo still conserves the appearance of a traditional Viennese cafe

Joyce's choice
Venturing in to the inner streets of Trieste we soon arrive at Via Dante, and the buen retiro of James Joyce.The Irish novelist, who lived in Trieste for over a decade, loved to pass the time of day sat at one of the tables of the Caffè Pasticceria Stella Polare.
Joyce was not averse to the sweet delicacies prepared at the Pasticceria Pirona either, where, they say, he enjoyed more than the occasional Presnitz: a wickedly sweet pastry ring bursting with dried fruit

Antico Caffè San Marco and the Attilio Hortis Library
Just a little further on we reach Via Battisti, where the modern philologist and Triestino DOC, Claudio Magris, has sought refuge.
Magris, like many of his literary predecessors, has elected the Antico Caffè San Marco as his second home (to such an extent that he even has his post delivered here). It is not unusual to spot Magris sat at one of the little tables, intent on writing, whilst his neighbours battle it out over a game of chess.
Literary Cafes aside, if you want to meet Italo Svevo, albeit immortalized in bronze, you'll need to go to Piazza Hortis, situated on the opposite side of the city.
It is here, in Palazzo Biserini, that the town's Attilio Hortis Library is located, complete with museums dedicated to Italo Svevo and James Joyce, where to consult any number of original documents, from epistles to literary works, written by those novelists who so loved early 20th century Trieste.