A Walk through Anacapri's Philosophical Park
Stroll along a trail lined with philosophical aphorisms and quotes in Anacapri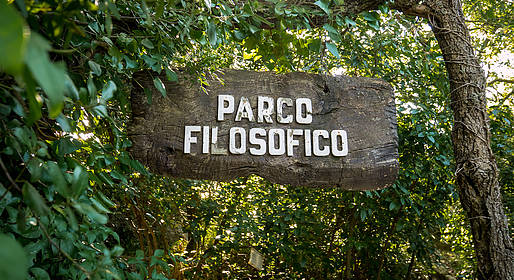 Capri has always been considered a cosmopolitan, luxury destination, with its boutique-lined lanes crowded with tourists and packed beaches. That said, there are a few quiet, meditative corners on the island which are less crowded than the bustling streets of Capri town where travellers can savor a few moments of silence and solitude.
One of these corners is the Philosophical Park in Anacapri, where the sense of calm serenity invites visitors to forget the pace of everyday life and dedicate some precious time to silent reflection.
A Walk through the Pristine Countryside on Capri
To reach this small oasis of peace, take the Migliera trail from the center of Anacapri, following the route as it winds through gorgeous stretches of pristine Mediterranean woods directly to the park gates. Here you can enter this unique natural reserve, conceived and built by the Swedish economist Gunnar Adler-Karlsson.
Once you've passed through the gates, you'll feel as if you've entered a different world, where three silent trails beckon you to follow them into the lush park and the mysteries beyond. Each of these three trails is dedicated to a specific school of thought: idealism, realism, and wisdom.
Let yourself be inspired and follow the route which speaks to you first...you'll find that you won't be able to leave without tracing all three routes by the time you're done!
Your walk quickly becomes a journey through Eastern and Western thought, as you pause along each route to read the quotes and aphorisms from writers, intellectuals, and philosphers from the 7th century BC to the 20th century AD painted on pretty majolica tiles lining the trail.
Follow the trail markers, or download the map...and begin your inner and outer journey.
Time for Yourself
The park is a perfect retreat to spend some time with yourself, either in silent contemplation or with a good book on one of the park benches under the cool shade. Ponder, read, listen to music, contemplate the quotes you've read, or discuss them with your companions. The park is there for you!
Once you have explored the park trails, take a few moments to savor the scenic overlook in the Philosophical Park, where you can admire the beauty of the island from the Faraglioni to the Punta Carena lighthouse, or continue along the trail to the Watchtower, once owned by writer Axel Munthe.
Information
Hours: from morning to sunset
Closing day: always open
Tickets: free

Website: www.philosophicalpark.com
Download the Capri Philosophical Park map

Near the entrance to the park, you can stop at the Da Gelsomina alla Migliera restaurant, famed for its traditional dishes and for the breathtaking view over the Mediterranean and the islands in the Gulf of Naples.

Our Insider is
Could you be our next Insider? Share your love of Italy by contributing to ItalyTraveller! See how!