Hotels to remember: Gargano
Gargano: introduction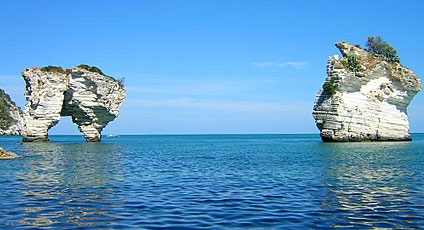 The Gargano is an "island of nature", a promontory surrounded on three sides by the Adriatic sea and backed by the Tavoliere delle Puglie. The Gargano National Park is a natural paradise, now a protected area, which comprises forests, the most famous of which is the Foresta Umbra, lagoons, ragged coast lines, sandy beaches and vast stretches of Mediterranean vegetation.
There are many towns to visit, each with its own special appeal. Along the coasts there are Mattinata, Manfredonia, Vieste, Peschici, and Rodi Garganico. Inland one finds the towns of Carpino, Ischitella, Cagnano, Varano, San Marco in Lamis, Rignano, Garganico, and Sannicandro. Offshore there are the Tremiti Islands.
Then there are the sites which, since Medieval times, have been of great religious importance: the Via Sacra dei Longobardi, the Great Abbeys, St Leonardo di Siponto, St Maria di Pulsano, St Maria di Kalena, Mount St Angelo, St Maria Maggiore, St Giovanni Rotondo. Not surprisingly, Gargano has become an International tourist destination.
Gargano: suggestions from the hotels
Annalisa Nullo
(proprietaria)
B&B and Homes

More suggestions and useful addresses
Gargano: places to see in the area